Nocturnal Diversions
November 6, 2021 - December 5, 2021
Nocturnal Diversions addresses the feelings that emerge when the sun goes down, both literally and figuratively.
Joshua Lawyer's pieces explore the negative events that lead humans to build defense mechanisms as a way to protect themselves, which then perpetuate and affect others. They may, at first glance, intimidate the viewer but eventually reveal beauty and complexity. MJ Lindo-Lawyer's series revolves around gerascophobia, which is the fear of getting older or aging, and whether it is a desire or necessity to hold on to childlike tendencies. Ursula Xanthe Young offers a group of paintings that celebrate the feminine energy of the moon, the magic of nightfall and the endless possibilities of the dreamworld. Lunar cycles, celestial energy and nocturnal vibes pervade in her gorgeous portraits and cityscapes that celebrate the night.
Joshua Lawyer is a self-taught artist with a background in painting on walls that didn't belong to him yet offered him a place to escape to when his world was too chaotic. Determined to become a good artist, he realized he needed to hone his skills in sketchbooks, a habit he still practices daily. Lawyer shifted from graffiti to fine art once the legal fees and his painting acumen reached a new level. His work uses the female figure, symbols and other tools to develop a narratives about "Finding Home" and "Getting Lost". Born and raised in the Bay Area, Lawyer still lives and works there.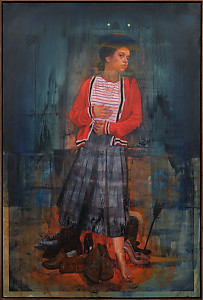 MJ Lindo-Lawyer paints her dreams, fantasies, and nightmares in the expressions of the women in her pieces. They attempt to evoke emotion, celebration wonder, yet also provide insight into the contemporary feminine story. Lindo-Lawyer is a self-taught, self-motivated, self-inspired creator of whimsical alternate universes, endlessly searching for truth and release by touching oil paint to wooden surface. She was born in Nicaragua, raised in Canada, and now lives and works in the Bay Area.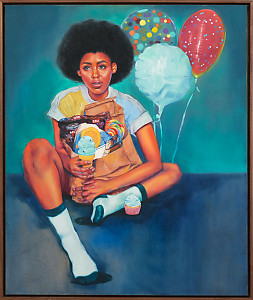 Ursula Xanthe Young is a painter, illustrator, and graphic designer whose urban fairy tale images have become a trademark of street culture in San Francisco and beyond. Her fine-lined illustrations and colorful modern paintings exude a style that is unique and appealing to art lovers of all kinds. Young grew up in the green rural dales of Northern England and studied art in New York, Florence, Vermont, Oslo, and London. After graduating from Parsons School of Design , she moved to San Francisco's Lower Haight district and spent nearly a decade there. Following a stint in Alaska, Ursula has settled in Grass Valley CA, where she now lives and works.
Join our mailing list to receive information about shows, artists, and events.